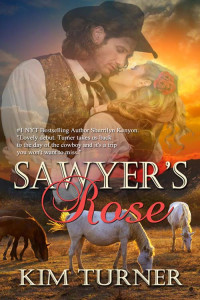 Sawyer's Rose (2016)
As if he doesn't have enough to handle between running outlaws out of Cheyenne, keeping his brothers our of trouble, and avenging his father's death, Sheriff Sawyer McCade's meddling mother just dumped a mysterious mail-order-bride on his doorstep. One woman can be more trouble than a band of renegades, and while this one has hum all stirred up, he'd rather get to the bottom of the story she isn't telling.
Rose Parker had it all–until a web of danger and deceit sends her running to Cheyenne posing as a mail-order-bride. Escaping the evils of New York seems sensible until she meets the unsuspecting sheriff who didn't ask for her, had no intentions of marrying her, and won't rest until he uncovers her secret and sends her back home.
Buy on Amazon, Barnes & Noble, Kobo, Google Play, iBooks, and The Wild Rose Press!!!